TRAVEL: YSL's Morocco
Journey to the heart of the bountiful retreat that beloved fashion icon Yves Saint Laurent called home.
Words: Kirsten Magwood
Images: Kirsten Magwood, Pierre Boulat & IFC Films
With a title like L'amour Fou, one might expect this documentary about Yves Saint Laurent and his life-mate Pierre Berger to be a wild ride through decades of decadence set off by the 1960's inception of "The House of Yves Saint- Laurent." By contrast, the film is more of a slow waltz as Berge, YSL's stoic surviving partner, leads preparations for the 2009 auction of the 733 paintings and "Objets d'art" acquired over their 50-year relationship. The two married just days before YSL's death perhaps with the tasks documented by this film in mind. As he prepares the souvenirs of his life journey for Christies, he tells the tales of their acquisition, each piece revealing a new dimension of the adventures he shared with Yves. Though early on Berge says that he is letting go of the collection pieces to "set them free," it becomes clear that selling the collection is less about their freedom than his own.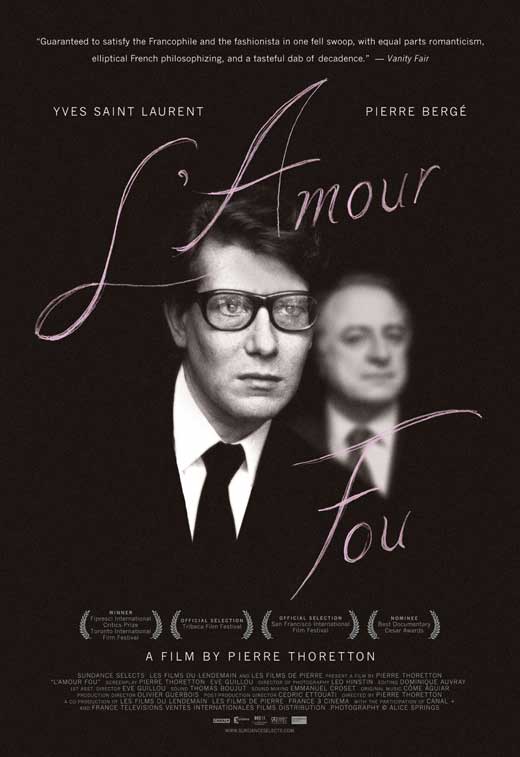 Angle and intimacy are what make the film unique as first-time filmmaker Pierre Thorreton captures Mr. Berge at such a poetic and vulnerable moment. Yves Saint Laurent's career has been well documented since he took over the House of Dior at the age of 21. Making a clever departure from the typical use of models, editors and celebs, the film tells a designer's tale. Thorreton provides a new take on an old story by relying almost exclusively on the perspective of YSL's lover and business partner sprinkled lightly with commentary from his most notable muses Loulou de la Falaise and Betty Catroux. He met Berge over a decade ago through his son's grandmother, famous French actress Catherine Deneuve. It is this long-standing relationship that allowed Berger to speak openly, share home movies and private pictures—all of which give the film a very personal touch. At times, the film is so "inside" that you might catch a glimpse at the ghost of Yves Saint Laurent during the beautiful gliding shots of his home, personal affects and inspirations.
Africa topped the list of YSL's greatest inspirations as evidenced in the colors and designs that span his 50-year design career. Though he made his name in Paris, he was born in Algeria, and after each fashion presentation, he would retreat to Morocco to rest, reflect and recharge. He'd return to the runways of Paris bringing saruels, jilaba, colors and notably, the models of Africa. YSL once referred to Somali super model Iman as his "dream woman" and is lauded as the first designer to use models of various hues in major campaigns and runways shows. His home in Marrakech was the setting for some of the couple's most opulent art pieces, and Berge's most vivid memories in film. YSL spent many of the last years of his life in Marrakech with his French bulldog Moujik. It is no surprise that when he died in 2008, Yves' ashes were scattered adjacent to his home in the Majorelle Garden, one of his favorite places in the world. Bergé said at the funeral service: "But I also know that I will never forget what I owe you and that one day I will join you under the Moroccan palms…"
The Majorelle Garden, which is Yves Saint Laurent's place of rest, was originally built in 1912 by John Majorelle, a French painter. Like Yves, Majorelle was drawn to the culture and climate of Marrakech as an escape. He set up his workspace and imported cacti, plants and flower from the Canary Islands, Central America and France to dance with the distinctly Moroccan architecture. He painted his garden oasis a vibrant cobalt that became known as Majorelle Blue. When Laurent and Berge acquired the garden in the '80s, maintaining it's electric hue was vital to the restoration. The garden soon became Yves' gift to Morocco, a symbol of the love that he had for the country and it's people. Majorelle Blue is the color of that love. The electric color spills into the art, couture and designs of local artisans who share a passion for Morocco and the haute couture legacy of it's favorite resident, Yves Saint Laurent.
Images of Morocco by Kirsten Magwood. Images of Yves Saint Laurent Courtesy of IFC Films and Pierre Boulat.